A Day in the Life of an Into Work Advice Trainee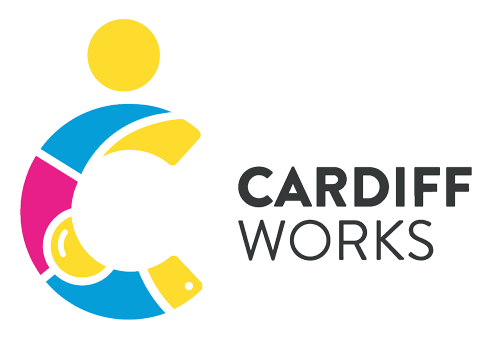 Hi, I'm Sam. I've just started working as an Into Work Advice Trainee. I'm usually based in Job Club in Cardiff Central Library Hub, but sometimes have shifts in other Hubs around Cardiff. My hours vary from 9-5 or 10-6 with an occasional late shift from 11-7 on a Thursday. No two days are the same here, there are always new clients who need unique support, which makes my job really interesting.
Each morning I start by setting up the computers before the service opens. We have to make sure there are enough sign in forms ready to go, so we get these photocopied and printed out first thing.
As clients start to arrive, me and the team greet and assist them with queries like job searching and help to apply. Throughout the day I will help clients access their job searching accounts and emails, teaching them how to use these tools. Sometimes I'll be asked to give clients feedback on their CV, or to help create a new one. To do this I work with them to fill out a form which includes information like their job history and employment aspirations. I'll then use this to write up a new CV for them.
Being based close to the city centre means I can easily pop out to local shops and cafés for lunch.
I get a half an hour lunch break, and two ten minute breaks each shift. As a team we make sure we can all go for breaks without leaving the service short-staffed.

After lunch, it's back to work where I will continue helping our clients. I might be asked to help clients apply for Universal Credit, a new form of benefit which merges six different benefit types into one monthly payment. I will help them complete the application form and supporting them to book their initial appointment. Job Club also includes helping clients to manage their Universal Credit accounts by logging in and helping them to declare changes of circumstance or leaving messages for their work coaches. We can also help by photocopying and scanning documents for clients and helping them to upload and email them when required.

Into Work trainees and advisors have strong connections to the employability projects run within the department so I will sometimes explain about the projects to interested clients. I will then complete referral forms for these projects, ensuring that all of the necessary information is complete before being forwarded to the relevant individual. As well as customer facing responsibilities, I also help manage the admin by updating the department's database with information from the log in forms completed by clients when they use the service.

If I'm working the late shift, I'll have the final hour of the day on my own to sort out any admin work that needs to be done and help clients until the service closes. I'll then shut down the computers and printers and prepare the room for the following day, before turning off the lights, closing the door and clocking out to head home.

My role as an Into Work Advice Trainee has helped me develop excellent customer service and teamwork skills, and has also helped me learn to work to my own initiative abilities. My confidence has grown so much in the job and I feel as though I am moving closer to achieving my career goals.

Tags: Admin Officer, Advice Officer


Register with us today